Kumbh Mela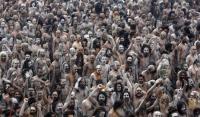 The name Kumbh Mela originates from Hindi, and more often in the original Sanskrit and other Indian languages, it is referred to as Kumbha Mela. In Sanskrit, Kumbha implies a pitcher and Mela means fair. Being a mass Hindu pilgrimages of faith, this festival boasts of being the "world̢۪s largest congregation of religious pilgrims". It takes place every third year at one of the four places by rotation: Haridwar, Allahabad (Prayag), Nasik and Ujjain. And hence, the Kumbh Mela is held at each of the four spots every twelfth year.

Every sixth year, Ardh ("Half") Kumbh Mela happens at only two places, Hardwar and Allahabad. Hindus assemble to bathe in a sacred river during the festival. The rivers at these four places are: the Ganges (Ganga) at Haridwar, the confluence of the Ganges and the Yamuna and the fabled Saraswati at Allahabad, the Godawari at Nasik, and the Shipra at Ujjain.

The exceptional event clubs the religious and cultural features making it an epic experience. The environ is cosseted with chiming bells, incense and flower fragrance, Vedic hymns, mantras, drum-beats, camels, and elephants while the naga (naked) sadhus from different akhadas (orders) proceed in their gold and silver chariots, which are being pulled by devotees. Here they show their paramount vigor and flair clean enchantment for the soul.